By Dane McGuire, IMMAF U.S. Correspondent
w/ UMMAF's Justin Brown and USFL's Jon Frank
For more than 15 years the United States Fight League, the youth development arm of UMMAF, has been focused on building athletes from the ground up through the sport of youth pankration,
originally an ancient Olympic predecessor to modern MMA.
The original sport of pankration only barred "biting and gouging an opponent's eyes, nose, or mouth with fingernails" according to Tufts University. The USFL has since distinguished modern youth pankration from MMA by not allowing head strikes, adding other safety requirements and by using cumulative scoring based on points for successful application of technique rather than a typical 10-point-must system used in adult competition.
The UFC's top featherweight contender Brian Ortega is now 14-0 after an upset knockout victory over Frankie Edgar at UFC 222 in a title eliminator. Ortega won the 2008 California state youth pankration championship under the USFL competing for them four times overall.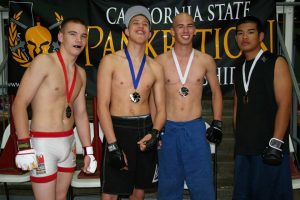 (Brian Ortega at 16- center wearing a hat)
Now, the world of MMA is once again about to see the benefit of amateur/youth experience under the UMMAF and USFL when the industry leading UFC books its next 145-pound title fight between the USFL veteran Ortega and champion Max Holloway.
Humble Beginnings (2002-2009)
Ortega and many others competed in the early days of the USFL, which began holding events in 2002. Almost all of these open tournament events were held in California and had a basic setup utilizing wrestling/jiu-jitsu mats as MMA was not a main focus of training. This was also partly why events were only held once to twice a year at the time.
Both youth and adult competitors would engage in up to five single-round bouts in each tournament. Thanks to growing popularity, full-contact adult MMA was then legalized in the state in 2009. In turn, adult pankration was made illegal. After almost a year-long shutdown, youth- only Pankration competitions were allowed to resume.
Fountain of Youth (2010-2012)
Returning in 2010, the USFL's new approach focused on holding frequent beginner-only open tournaments to allow new teams and competitors to compete in the sport and move the advanced level athletes into events with pre-arranged "All-Star" matchups. This concept proved highly successful until California state law was once again changed in 2012 to make the sport an officially regulated activity.
A New Age (2012-present)
From 2012 to 2014 the sport was reorganized by the USFL and a committee from the California State Athletic Commission. From that point, the CSAC assisted in developing a comprehensive set of rules and regulations making California the first state to officially regulate and recognize youth pankration competitions.
The sport is now well organized, monitored by medical research teams with results officially recorded. It has begun spreading to other regions of the United States, bringing top youth prospects together ultimately setting the highest standards of competition. This approach has produced 18 and 19-year-old amateur MMA fighters who are well advanced in skill set and competitive experience.
It should also be mentioned that a current study being conducted under the direction of Dr. James Andrews has found the injury rate for youth pankration to be only 15 injuries per 1000 athlete exposures, none of which were related to concussions. When the study is published, this should show a much lower comparable injury rate to other widely accepted typical youth sports.
A Successful Lineage Worldwide
Many more top ranked fighters participated in these USFL Pankration tournaments as youth and/or adults before their pro careers, since amateur MMA was not available at the time.
Bellator newcomer Aaron Pico (pro 2-1,) a USFL youth state champion and national Junior Golden Gloves champion in boxing as well as an Olympic prospect in wrestling, would win early state and national pankration titles before meeting his freestyle wrestling coach Valentin Kalika.
Kalika then escorted Pico and top amateur prospect Clayton Carpenter (amateur 5-1) on a pankration competition and training tour of the Ukraine, prior to Pico signing with Bellator.
Invicta FC, the all-female organization that has supplied countless fighters to the UFC's female division, is now home to top professional prospect, Kay Hansen (Pro-1-0). Hansen turned pro at just 18 years old and won her Invicta debut last year by submitting a very tough Emilee Prince at just 1:23 of the first round.
This followed Hansen's just one amateur win and an undefeated youth career in the USFL (youth 4-0.) She returns to Invicta on March 24 at Invicta FC 28 to face Kal Schwartz.
Asia's largest sports media property ONE Championship, has a brother-sister professional tandem in women's atomweight (115-pound) champion Angela Lee (pro 8-0) and her brother Christian Lee (Pro 9-1) both of whom were youth national and world pankration champions who had enough experience to turn pro as teenagers.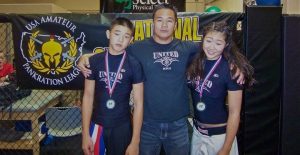 (Christian Lee —left, father/coach Ken Lee—middle, Angela Lee—right, after a youth pankration competition.)
Their younger siblings Adrian and Victoria Lee also have USFL experience and are continuing to pursue youth pankration as well.
Other notable USFL Pankration alumni include:
UFC's Chris Holdsworth (6-0)—2008 U.S. national pankration champion
UFC's Joseph Morales (9-1)
UFC's Tim Kennedy (retired)—early adult event competitor, Strikeforce title challenger
James Wilks (retired)— UFC's The Ultimate Fighter winner (Season 9)
Bellator's Cody Bollinger (19-7)—King of the Cage, World Series of Fighting, Titan FC, and Resurrection Fighting Alliance veteran
Bellator's Jalin Turner (6-3)
Bellator's Noah Tillis (4-3)—MMA coach
Angelo Trevino (5-2)—Pro prospect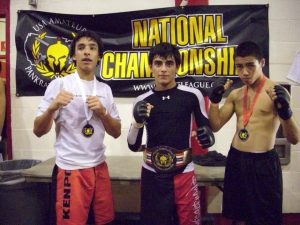 (Joseph Morales- center with belt)
A primary benefit of the USFL is not only competitive youth experience prior to turning amateur/pro, many youth athletes have since taken their skills and have built up successful careers in the military and law enforcement. By the time many youth athletes turn 18, they can make an educated decision to pursue full rules amateur MMA like Hansen and others have achieved.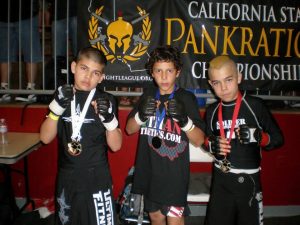 (Aaron Pico— center)
Having a unique understanding of competitive combative sports at the youth level before taking on any associated risks involved with adult MMA, many athletes will be satisfied with their past experiences and leave the sport to pursue other activities, while others will know they are well suited to move forward in chasing their dreams at the highest levels of professional sport.
The USFL is a 501c3 non-profit organization created toward the exclusive development and progression of Youth Pankration from the ages of 8-17. For more information please visit their website at www.Fightleague.org. The USFL platform is a vital part of the development of amateur MMA for Olympic Recognition here in the US. The USFL is the only recognized and accepted youth development partner of UMMAF.