By Dane McGuire, IMMAF U.S. Correspondent and Nate Gnau, Contributor
The IMMAF-partnered Ultimate Fighting Championship, the premier professional MMA organization in the world, kicked off its 25th year of operation with its first trip to the "Gateway to the Midwest" and UMMAF home city of St. Louis on Sunday night.
The main event saw Jeremy "Lil Heathen" Stephens (26-14 in MMA, 13-13 in UFC) square off against one half of the 2016 "Fight of the Year," the "Korean Superboy" Doo Ho Choi (14-2 MMA, 3-1 UFC.) Stephens entered the bout fresh off a "Fight of the Night" victory against former Strikeforce lightweight (155-pound) champion, Gilbert "El Niño" Melendez (22-7 in MMA, 1-5 in UFC) from back in September.
Main Event: Jeremy Stevens vs. Doo Ho Choi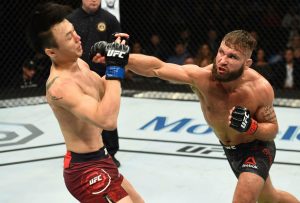 "The Korean Superboy" is the first to land, a kick, as Stephens got nothing but air with his own. The 11-year UFC veteran in nearby Iowa's "Lil' Heathen" was trying to throw bricks from the get-go, a stretch Choi escapes from largely unscathed. Choi connected with a knee in the clinch after they both landed low kicks. Choi's next kick was checked, but a straight right down the pipe hit paydirt.
Stephens then countered another Choi kick with a right hand, is clinched briefly, but blasted him with a separating elbow when Choi doesn't use his chance at an uppercut. However, he did drive home a right uppercut-left hook pairing shortly thereafter. Jabs and traded kicks closed the round.
Arguably down a round, Stephens suffered a front kick to the face (somewhat like the famous Anderson Silva moment against Vitor Belfort) to begin Round 2. He followed up a missed knee with a right and a number of leg kicks. The pain was obvious on the part of Choi but he remained close.
When the title-shot hopeful threw his next kick, Stephens backed him up with another right hand. By then, Choi was breathing heavily while trying to go to the midsection with his striking. A few jabs set up a highlight-reel right hand to the temple that all but shuts Choi down. Stephens brought the hammer down with an elbow and peppered Choi with shots until the official brought this headliner to its end.
This was the first time in Choi's UFC and overall MMA career that he has suffered a KO/TKO loss.
Jeremy Stephens def. Doo Ho Choi via KO (Strikes and Elbows) at 2:36 of Round 2
Co-Main Event: Paige VanZant vs. Jessica Rose-Clark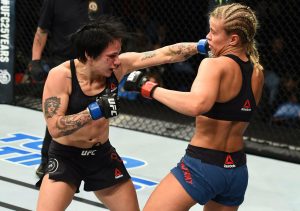 The evening's co-main event saw "12 Gauge" Paige VanZant take (7-3 in MMA, 4-2 in UFC) take on "Jessy-Jess" Jessica Rose-Clark (8-4, 1 No Contest in MMA, 1-0 in UFC) in VanZant's first contest since moving up to the UFC's new women's flyweight (125-pound) division.
PVZ got things going with a pair of switch kicks and right hook. They tied up and trade attempts at a trip that goes the way of VanZant. Clark gets the better of the grappling though wasn't able to do anything with top position.
Clark got the neck and the now Gracie Barra Portland-based American ended up in an arm-triangle choke. VanZant drops to the floor to get out and she does. Clark looks for the same submission inside VanZant's half guard but changes elbows to the torso moving to the head before the horn sounds.
VanZant is a big fan of kicking as her modus operandi as Round 2 begins—much to her advantage, as she landed one on Clark. She countered with a left and her own kick but VanZant returned that with a right hand. Clark put VanZant on the cage when a spinning back fist doesn't fully land but she gets a trip takedown. Clark put her in a heel hook.
When VanZant escapes Clark keeps the pressure on with a double-leg takedown before looking for the arm-triangle again. Instead, she gains back mount on VanZant as she tried to escape the previous choke. Clark switches to elbows in the final seconds ahead of Round 3 but it appeared to be close to over.
The Aussie was visibly tired ahead of the final round as VanZant incorporated knees alongside her switch kick headshots around the minute to 1:30 mark. The duo then create space and move around the cage dance around the cage. VanZant used her feet to finish the round compared to the mostly silent Clark, a possible injury to VanZant  seeming evident.
Still, VanZant consistently landed far more productive contact it seemed. Despite this, the judges saw things differently to the dismay of the audience.

"I feel good," Clark said afterward. "I had a lot more that I wanted to show out there tonight but that happens and I felt that I dominated the fight. I knew coming in that I was the better fighter and I worked hard to show that. I feel I'm one of the best women in the world and I can't wait to see who the UFC is going to give me next. I've fought six times in the last 18 months but I'm just getting started."
Update: VanZant later revealed an x-ray photo of a broken arm suffered during the bout on social media.
Jessica Rose-Clark def. Paige VanZant via Unanimous Decision (30-27, 29-28, 29-28)
Kamaru Usman vs. Emil Weber Meek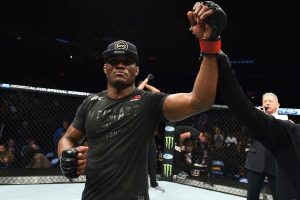 Usman comes right out of the gate with a ground-focused strategy, succeeding with a takedown into the guard of Meek. Meek turned things around on him though with a guillotine choke attempt. That was countered with an arm-triangle choke when Usman postured up, before he transitioned to working the midsection.
Meek rose up but still had his challenger on him. He attempted a kimura but that tree bared no fruit. They parted and Usman drew a big crowd reaction with a reverberating slam, stifling Meek on the canvas until the sound of the horn. He looked for a rear-naked choke but switched to right hands to close the round. The Norwegian was not completely silenced though as he returned fire with elbows from below.
Meek then fired into action with quick left jabs and an elbow that seemed to open up his target again to jumpstart the second. Usman continued to implement a lock up-and drag down game plan, going his opponent's back at that point, although he is only able to maintain the bodylock.
The viking looked for a kimura but chose to give up on it. Elbows started flying from both combatants but Meek sustained a more of a cut across his forehead during the trading. The fight heads to the third after short left hands from the former Blackzilian.
Usman entered Round 3 limping badly and Meek noticed as he pressed forward with an outside leg kick. They halt when Meek makes contact with Usman's cup on another kick. Meek resumes with power punch attempts. Usman scores points with another takedown that was rendered mute by a quick scramble.
Usman runs things back and next alternates between point plank shots from the top and elbows before the two stand up. Tired and bloody, things were not looking good for "Valhalla" against "The Nigerian Nightmare" as the grinding elbows kept raining down on him.
Nearing the proverbial finish line, Usman out-muscled his man from then on. With ten seconds left, Meek goes for an upkick after being forced down once more and gets nothing for his effort.  Visibly angry and frustrated threw his mouthguard into the crowd.
Kamaru Usman def. Emil Weber Meek via Unanimous Decision (30-27, 30-27, 30-27)
Darren Elkins vs. Michael Johnson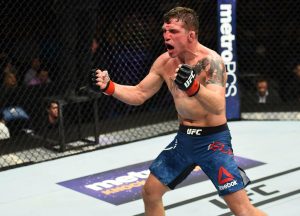 St. Louis native and and former lightweight (155-pound) champion for UMMAF head coach Robert Hulett's Midwest Fight League, Michael "The Menace" Johnson swung for the fences early against Darren "The Damage Elkins" in the main card opener following a thudding body kick that appeared to have Elkins wobbling early.
A takedown attempt into a left hand dropped the visiting Elkins to his knees. An uppercut from Johnson brought crimson into the match-up at the one minute point. The two traded lefts but Johnson still led the dance with multiple combinations. There was somewhat of a lull in the fight but the first round was then punctuated with a Johnson two-punch to head kick sequence.
Following a short break early in the second for a low blow, Elkins caught a leg and converted the takedown into the rear-naked choke position after forcing Johnson there with right-hand shot that numbered in the double digits. "The Damage" closed the deal from there.
Darren Elkins def. Michael Johnson via Rear-Naked Choke at 2:22 of Round 2
Preliminary Card Results (Fox Sports 1/ UFC Fight Pass)
James Krause def. Alex White via Unanimous Decision (29-28, 29-28, 29-28)                        
Marco Polo Reyes def. Matt Frevola via KO (Strikes) at 1:00 of Round 1                                 
Irene Aldana def. Talita Bernardo via Unanimous Decision (30-27, 30-27, 30-27)                   
Kyung Ho Kang def. Guido Cannetti via Triangle Choke at 4:53 of Round 1               
Jessica Eye def. Kalindra Faria via Split Decision (29-28, 28-29, 29-28)
JJ Aldrich def. Danielle Taylor via Unanimous Decision (29-28, 29-28, 29-28)                        
Mads Burnell def. Mike Santiago via Unanimous Decision (29-28, 29-28, 29-28)                    
Notes:
The original co-main event of Vitor Belfort vs. Urijah Hall was removed from the card after Hall was hospitalized after attempting to make weight per MMAFighting.com.
Zak Cummings vs. Thiago Alves was removed from the card following a bad fall on the part of Cummings that resulted in a cracked skull per a statement on social media.
Photo Credit: UFC & MMAFighting.com