This week IMMAF President Kerrith Brown signed off on the Kingdom of Bahrain serving as hosts of the 2018 and 2019 IMMAF World Championships on Amateur MMA – continuing on from the success of 2017.
The announcement was officially made on March 7 at a press conference in Manama, hosted by the Bahrain Mixed Martial Arts Federation (BMMAF).
The location of the next two IMMAF World Championships was made official as the IMMAF President and Col. Al Khayyat, President of the Bahrain MMA Federation, signed the hosting agreements for 2018 and 2019.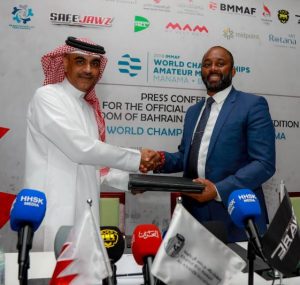 The fifth IMMAF World Championships sees the World's premier amateur MMA event return to the city of Manama later this year. Bahrain first hosted the championships in 2017 after the previous three years were hosted by the USA in Las Vegas.
The nation vs. nation, World Amateur Championships take place during late November and will lead into early December, dates to be confirmed.
The 2017 IMMAF World Championships broke participation records with close to 250 athletes representing 48 competing nations. World champion gold medalists, plus silver and bronze medal winners were crowned across 14 exciting weight divisions. For details on the 2017 IMMAF World Championships medal winners, click HERE.
Athletes wishing to participate should contact their national federation for information about local tryouts and event updates.